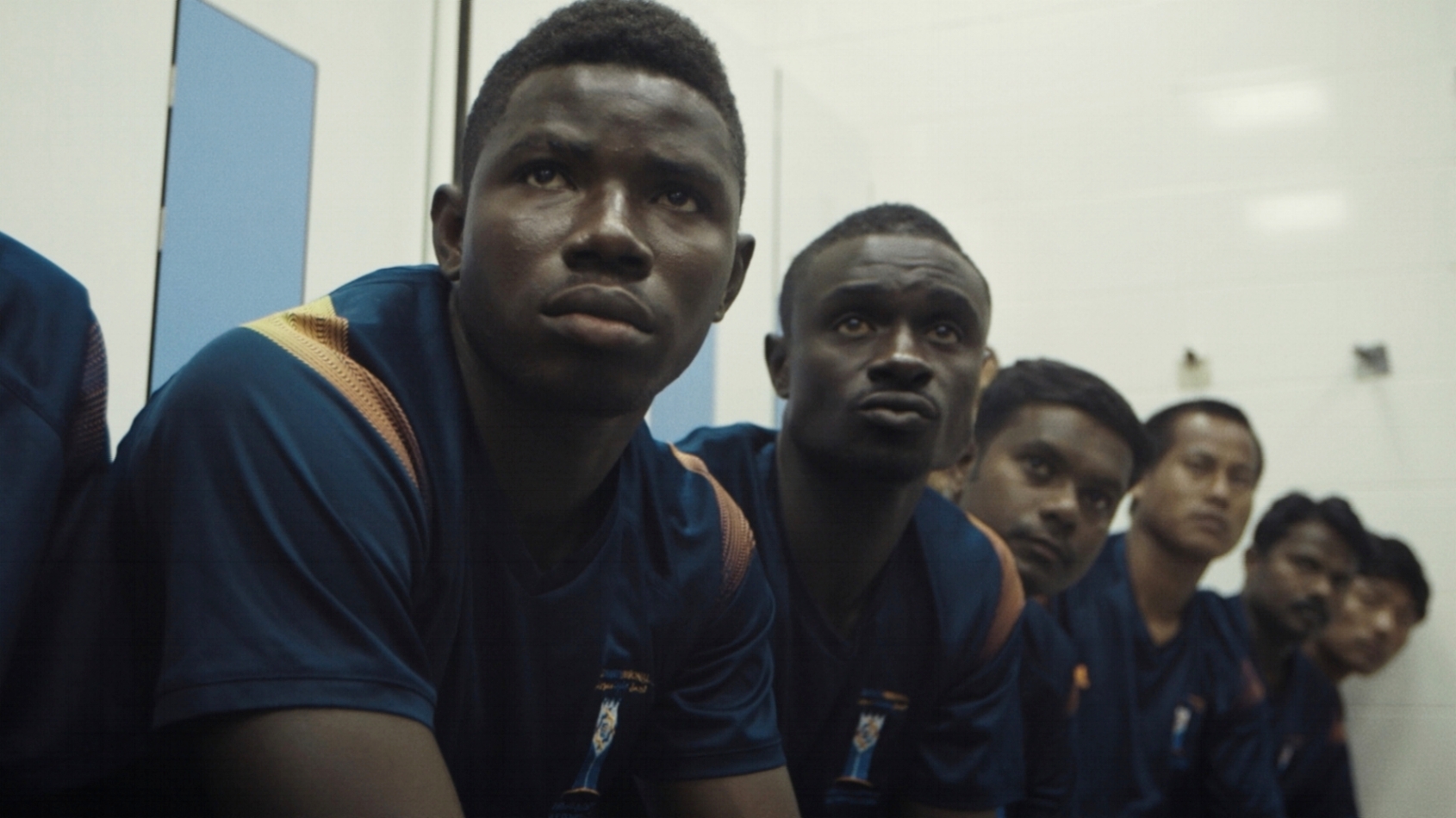 LOGLINE
Inside the labor camps of Qatar, African and Asian migrant workers building the facilities of the 2022 World Cup compete in a football tournament of their own: The Workers Cup.
THE STORY
In 2022, Qatar will host the biggest sporting event in the world, the FIFA World Cup. But right now, far away from the bright lights, star athletes and adoring fans, the tournament is being built on the backs of 1.6 million migrant workers. The Workers Cup is a feature-length documentary giving voice to the men who are laboring to build sport's grandest stage.
Sixty percent of Qatar's total population are laborers. From India, Nepal, Bangladesh, the Philippines, and, increasingly from Africa, some of the world's poorest people are working the lowest level jobs to ensure the World Cup can be hosted in the world's richest country. These men work exceedingly long hours for scant salaries, and they live isolated in labor camps which are by law kept outside city limits.
With unprecedented access, our film unfolds largely inside a Qatari labor camp that the migrant workers we meet say feels like a prison. Hidden between a highway and remote stretch of desert, the Umm Salal Camp is intentionally out of sight and out of mind. So are the 4000 men who live there.
We focus on a select group in the camp who have been chosen to compete in a football tournament for laborers: The Workers Cup. The tournament is being sponsored by the same committee organizing the 2022 World Cup and 24 construction companies have been invited to field a team of workers. Over the course of the tournament we follow the men as they alternate between two startling extremes: they play heroes on the football pitch, but are the lowest members of society off of it.
The film is a portrait of a handful of players on the team. It explores universal themes of ambition, aspiration and masculinity, as we see our protagonists wrangle hope, meaning, and opportunity out of dismal circumstances. The mundane is fraught with turmoil, whether it is changing jobs, talking with family back home, or going on a date. This results in a terrible toll to the psyche of our protagonists, as they are depleted of the hope that motivated them to come to Qatar in the first place.

Ultimately, our own complicated relationship with sport is revealed, as we see its power to unite and divide society by turns.
THE CHARACTERS
The film was conceived to give voice to migrant workers in Qatar and allow them to tell their own stories. We followed one team playing in the football tournament, and focused on five protagonists from the team:
Kenneth, 21, Ghana
A recruiting agent in Ghana told Kenneth that he'd be coming to Qatar to join a professional football club. After Kenneth arrived in the country, he realized his agent lied. While Kenneth works construction, he still dreams of playing professional football. He hopes to catch the eye of a scout while playing in The Workers Cup so he can escape the camp.
Paul, 21, Kenya
Surrounded by 4000 men, and working a job that keeps him in the camp seven days a week, Paul is struggling with loneliness in this distant land. He dreams of meeting a girl and falling in love.
Umesh, 36, India
Umesh came to Qatar with a simple dream: to earn enough money to build his own home. Until he accomplishes this, he'll live separated from his wife and two sons, who are named Rooney and Robin after the Manchester United stars.
Padam, 28, Nepal
After 8 years of failing to get around Qatari laws that prohibit him from bringing his wife to Qatar, Padam now has to decide if he should stay and earn, or return to Nepal to be with his wife.
Samuel, 24, Ghana
A talented goalkeeper, Samuel played in the 1st Division in Ghana but he still couldn't make ends meet. He came to Qatar to work construction, but out of pride he lied and told his father that he was coming to play professional football.
We are a team of award-winning film makers from around the world but with a sharp focus on telling the stories of the Middle East and North Africa to the world.
We were all residents of Qatar - part of the ninety per cent who live there who were not citizens of the country. We were engaged in making films and also news and current affairs there and in the region. The story of the workers was all around but so hard to access except in the most superficial way.
This tournament for the workers was a unique opportunity to spend some real time with these men. We picked a team and followed their tales of hope, failed ambition and loneliness across years. Their stories speak for so many other migrant workers around the world, not just in Qatar.
We were helped by SO many along the way so this handful of names by no means reflects the people that made this film possible.
Director / Adam Sobel
Producer / Ramzy Haddad
Producer / Rosie Garthwaite
Editors / Lauren Wellbrock, Anne Jünemann, Adam Sobel
Previous Screenings
SUNDANCE (World Premiere) - January 2017 - USA
Ayam Beirut Al Cinema'iya (Arab Premiere) - March 2017 - Beirut
CPH:DOX* (European Premiere) - MARCH 2017 - DENMARK
Hawai'i European Cinema (Award: Best Feature Doc) - March 2017 - USA
Arab Film Days - April 2017 - Norway
Vilnius Film Festival - April 2017 - Lithuania
It's All True - April 2017 - Brazil
Hot Docs - April/May 2017 - Canada
Docs Against Gravity - May 2017 - Poland
Taoyuan Film Festival - May 2017 - Taiwan
Doc Edge - May 2017 - New Zealand
Sheffield Doc/Fest - June 2017 - Sheffield, UK
Human Rights Watch FF - June 2017 - NYC, USA
EAST END Film festival - June 2017 - London, UK
Sydney Film Festival (Voted Top 10 Best Docs) - June 2017 - Sydney, Australia
Misaf (Award: Best Feature Doc) - August 2017 - Mississauga, Canada
EBS Intl. Doc Fest – August 2017 – Seoul, Korea
Take One Action – Sept. 2017 – Glasgow/Edinburgh, Scotland
Quebec City Film festival – September – Quebec city, Canada
Zurich Film Festival – Sept./Oct. 2017 – Zurich, Switzerland
Film Festival Diritti Umani Lugano - October 2017 - Lugano, Switzerland
Intl. Documentary Film Festival of Mexico - October 2017 - Querétaro, Mexico
Crested Butte Film Festival - October 2017 - Colorado, USA
Hof International Film Festival - October 2017 - Hof, Germany
Another Way Film Festival - October 2017 - Madrid, Spain
Hot Springs Doc Festival (Award: Best Sports Doc) - October 2017 - Arkansas, USA
Clinton School of Public Service - October 2017 - Arkansas, USA
Mondovisioni - October 2017 to October 2018 - Italy
Film SouthAsia - November 2017 - Kathmandu, Nepal
Aldeburgh Documentary Festival - November 2017 - UK
Carthage Film Festival - November 2017 - Carthage, Tunisia
Austin film society - November 2017 - Austin, USA
Mercury Cinema - November 2017 - Adelaide, Australia
This Human World - November/December 2017 - Vienna, Austria
National Film and Sound Archive - December 2017 - Canberra, Australia
Iran Intl. Doc. Film Festival - December 2017 - Tehran, Iran
Kathmandu Intl. Mountain Film FEst. - December 2017 - Nepal
Palm Springs intl. Film Fest. - January 2018 - Palm Springs, USA
FIPA - January 2018 - Biarritz, France
Globale Mittelhessen - January 2018 - Germany
Cine Onu - January 2018 - Brussels, Belgium
Human Rights Watch Film Festival - February 2018 - Amsterdam, Holland
Human Rights Watch Film Festival - March 2018- London, UK
Thinking Football Festival - March 2018 - Bilbao, Spain
11mm Intl. Football Film Fest - March 2018 - Berlin, Germany
Sheffield Film Days - March 2018 - Amman, Jordan
Cine Onu - March 2018 - Luxembourg, Luxembourg
MIGFilm - April 2018 - Prague, Czech Republic
International sports Film Festival - April 2018 - Columbus, USA
Minneapolis St. Paul Intl. Film Festival - April 2018 - Minneapolis, USA
Off camera Festival - April/May 2018 - Krakow, Poland
Elbe Dock - May 2018 - Czech Republic
Football film Festival - May 2018 - Warsaw, Poland
DC Labour FilmFest - May 2018 - Washington DC, USA
Festival la Lucarne - May 2018 - Paris, France
Global Soccer Conference - May 2018 - Harvard U, MA, USA
BErkshire IFF - June 2018 - Berkshire County, Ma, USA
Museum of the moving image - June 2018 - New York City, USA
Laemmle Monica Film Center - June 2018 - Los Angeles, USA
Alamo Drafthouse Lubbock - June 2018 - Lubbock, Texas, USA
Home Cinema (Human Rights Watch) - June 2018 - Manchester, UK
Grand Illusion Cinema - June 2018 - Seattle, Washington, USA
Frontline Club - June 2018 - London, England
Atlantida Film Festival - June 2018 - Palma de Mallorca, Spain
The Bioscope - June 2018 - Johannesburg, South Africa
DC Angelika Pop-Up - June/July 2018 - Washington Dc, USA
Delphi Lux - July 2018 - Berlin, Germany
Parkway Theatre - July 2018 - Baltimore, MD, USA
Malco Ridgeway Theater - July 2018 - Memphis, TN, USA
Utah Film Center: Salt Lake City - July 2018 - Salt Lake City, UT, USA
Lumiere - center for photography - July 2018 - Moscow, Russia
CINEFOOT - Sept. 2018 - Rio De JanEiro, Brazil
Human Rights Doc Film Festival - Sept. 2018 - Hong Kong
Verzio Int. Human Rights FF - Nov. 2018 - Budapest, Hungary
A lot of lovely people have been asking us how they can help out the men in our film and people like them. Please do keep sending us your questions and ideas and we will do our best to follow them up!
Some people have asked to donate money to them directly. We have set up a Paypal account for them that will be divided and shared every time it hits 1000 USD. The link is here paypal.me/workersdonationfund or get in touch with us for bank details if you prefer a direct transfer. (The name on the Paypal when you click through is of our London-based producer Rosie, she runs the bank account, and will be making sure the donations go directly to the men without any intermediaries taking a cut).
You can also leave messages for the men in the film via the Contact page or in the Paypal message if you are making a donation.
If you would like to support an organisation that works directly to change the lives of men like those in the film and their families we can suggest: Amnesty International, Migrant Rights, the Business and Human Rights Resource Centre or Human Rights Watch and there are so many more.
Kenneth

Kenneth lived in Qatar for 4 years before returning home to Ghana. Once there, he went back to football and trained with a youth team in his area. He is still waiting to make a breakthrough in the game.

Last year, Kenneth attended a screening of "The Workers Cup" at the Nubuku Foundation in Accra, Ghana and took part in a Q&A with the audience.

Updated October, 2019.
Calton

Calton has been in Qatar for over 5 years now. He still works for GCC as a security guard and lives in the same labour camp seen in the film.

Calton hopes to return home to Kenya someday to open a business with his savings.

Updated October, 2019.
Samuel

Samuel moved back to Ghana in the summer of 2017 after developing chronic pain from operating heavy construction equipment.

Since returning, Samuel has been working as a door to door salesman. He still plays football in his spare time.

Last year, Samuel attended a screening of "The Workers Cup" at the Nubuku Foundation in Accra, Ghana and took part in a Q&A with the audience.

Updated October 2019
UMESH

Umesh moved back to India after 6 years of working construction in the Gulf – both in the UAE and Qatar. Umesh though is still working towards his dream of building a house for his family.

Now that he's home, he spends more time with his two sons (Rooney and Robin) and coaches their youth football team.

Updated October 2019
PADAM

Padam moved back to Nepal to reunite with his wife after living apart for 8 years. While there, he held a leading role within the Christian community as a preacher but could not find steady work.

In December 2017 he moved to Dubai to take a job as a security guard.

His wife received a standing ovation at a screening of the film in Kathmandu and is very proud of her husband.

Updated October 2019
PAUL

Paul returned to Nairobi, Kenya in 2015 and eventually became engaged. Things didn't work out and today Paul is once again living abroad and working as a security guard in Dubai, UAE.

Updated October 2019